Meditation Questions: How should I use a Mantra?
I've been getting some great feedback from readers this week. Here are a couple of messages I received that could help you understand how to use what I'm offering to improve your own meditation practice.
After watching my video on how to improve concentration in meditation, Jimothy, from Canada, whose question about how to maintain his practice I addressed in my last email, wrote, "thanks for the wonderful video Dada! These tips are really useful for me."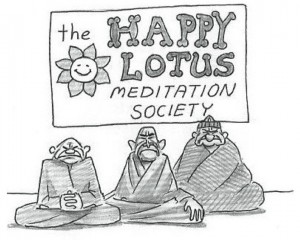 Thanks, Jimothy, for highlighting how these simple practical points, like what and when you eat, and which nostril has a dominant flow of air, can make such a difference to your concentration.
Becky in San Antonio, Texas attended a workshop I gave recently. She wrote, "I'm a daily meditator and since your workshop I've started all my sits by chanting Baba Nam Kevalam. I notice once I finish the chant & start my silent mediation I'm in a much deeper calm state – so Thank you again!"
I've taught this simple chanting technique to thousands of people. Check out how the audience of Facebook engineers responded to it in this video of my recent talk at

headquarters.
To learn more about how this mantra technique works, click here to watch the next teaching video in my quick start series, Mantra Meditation. Here you will learn:
How to use a mantra in meditation.

How to get away from the frustration of just trying to think of nothing. 

The difference between concentration and spiritual meditation.
Many people complain to me, saying that they can't meditate because they can't stop thinking. Trying to stop thinking is a flawed approach in the first place. It is quite normal to have thoughts during meditation. To slow the mind down and reduce the number of thoughts you need something to focus on. In my next letter I'm going to address this in detail.
Another popular complaint (people seem to enjoy coming to me with their problems) is," I don't have time to meditate."
This is simply a matter of priorities. To get started meditating, you can begin with just five minutes a day. And I honestly don't believe that anyone can't make five minutes a day for something this important. I know single mothers who meditate twice a day for 30 minutes, and it doesn't get much busier than that.
I really enjoy getting questions and feedback. Please write your thoughts in the comment space below.